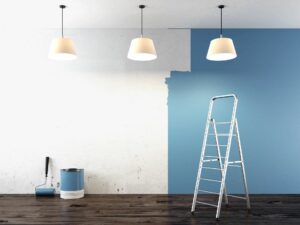 Whether you have drywall that has been damaged or walls that just need a little TLC with a touch of paint, Argabright & Son Construction can make your home feel like new again.
Drywall
There's nothing more glaring than a hole in your wall. Don't let a daunting repair keep you from enjoying your space. Contact us today and let our professionals take control of the situation and return your home to its original form.
When it's time to install drywall in your home, we make the tough task simple. Our professionals will handle the project from beginning to end.
Our drywall installation services include:
Drywall hanging (including ceiling installation)
Drywall mudding and taping
Painting and finishing touches
Painting
Have you recently looked around your home to find that it is in desperate need of a refreshing coat of paint? We can brighten up your living room or do a complete color overhaul! A fresh coat of paint can have a tremendous impact on any space! Attempting a project like this can really be a stressful and time-consuming process.
We will make the process of getting your house painted easy. We deliver both speed and quality, so you don't have to shift your whole life around just to get your house painted.
With nearly three decades of experience we can paint any of your interior spaces, including ceilings, floors, walls, doors, trim, windows and more!
The Process
Our quality control steps for drywall and painting projects:
Confirm details such as paint color, materials needed, etc.
Ask you to remove all valuables, fragile items, pictures and shelves from the area you're having painted, remodeled or repaired.
Recommend finding a place for your pets while the job is completed.
Answer any questions you may have about your project.